Customer Log-in:

Specialty Food Distribution Co., LLC is a special market distribution company. We work with non- traditional grocery accounts whose needs do not fit into the traditional wholesale grocery programs or the pricing model of a specialty food distributor. Our centrally located warehouse along with our extensive distribution and logistics services ranging from truckloads to mixed pallets and store direct UPS program, allows us to tailor programs that meet our customers needs.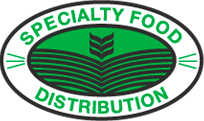 New Items
Red Cactus Salsa

Please check out the other Red Cactus Items that have been added to our product lines.
New Item
Utz Potato Chips & Snacks
Introducing a new line of potato chips to Specialty Food Distribution Company.
Delivering on our commitment to quality, value and service.
Warehouse/Distribution | 4600 Theater Road, Sparta, WI 54656 | P: 608-269-5266 F: 608-269-4844